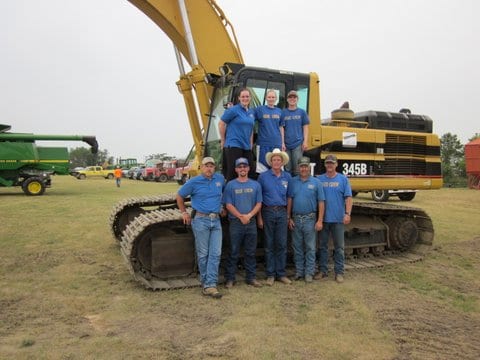 Rick Kniepkamp, Head Auctioneer
Rick founded R-K Statewide Auction Service in 1979. He's been in the auctioneering business since the mid-seventies and is one of the most experienced and successful auctioneers you'll find anywhere in Montana.  Rick has a way of getting people excited about whatever he's selling and is always a crowd favorite!
His unique style and zest for what he does helps sellers get top-dollar for their items and gives the sizeable crowds at his auctions quite an experience!
Rick lives on their family farm/ranch outside of Circle, MT with his wife Donna.
See Rick in action…
Donna Kniepkamp, Cashier
Donna plays an integral part in the R-K Auction Service family.  Not only is she the cashier and bookkeeper for the business, she also is Rick's wife…and that's no easy job either!
You can find Donna doing her magic in the R-K Auction Trailer at every auction sale.  Stop by and say "hello" sometime!
Nick Schriver
Nick is an esteemed member of our business.  He is a highly dependable and efficient auctioneer.  You will enjoy his smooth chant and the way he keeps the sale moving.  We are pleased to have him on our team.
Nick also works for the Montana Highway Department and lives in Circle, MT with his wife and two children. His son, Carson works many of the sales throughout the year moving items from the trailers.  His work is appreciated by both the auctioneers and the buyers.
See Nick in action…
Staci (Kniepkamp) Hammell
As they say, the apple didn't fall too far from the tree.  Staci has been auctioneering with R-K Statewide Auction since she was 17 and brings much of the same enthusiasm and crowd appeal that her father does.
Staci lives in Bozeman, MT with her husband Doug and her son Brady, she also works in sales & home interior design.
See Staci in action…
Scott Heide
Scott is a valuable member of the R-K auction team.  He works the trailers and helps where ever he is needed.  Scott also has excellent knowledge of antiques and their value.  Scott has a contagious smile and is a great asset to the business.
Scott lives on a ranch outside of Circle with his wife and is the Weed Control Supervisor.
Mike Kniepkamp
Mike is another key member of the R-K auction team. He is Rick's brother and brings a similar sense of humor and zest to each auction. You'll find him entertaining bidders on the trailers each week.
Mike lives on a ranch outside of Circle with his wife Kathy and also runs his own liquid-feed business (Anipro).
Katie Kniepkamp
Katie is our niece and can be found clerking, helping out on the trailers, and doing whatever else is needed. She's always willing to help and is very much appreciated!
Katie, lives in Dickinson, ND and works for the BLM.
Michelle (Mooer) Palmer & Chad Palmer
Michelle  is another of our nieces and brings her expertise in clerking the auctions.  You can see her friendly face at most of the auctions and she has also been seen working a few trailers.
Michelle, lives in Dickinson, ND with her husband Chad and son, Tarik. You'll also find Chad lending a willing hand on the trailers at many of our sales!
Kristi (Kniepkamp) Chase
Kristi is Rick and Donna's oldest daughter.  Kristi runs her own hair salon, called Static in Bozeman, MT.  When she's not working at her shop, she also makes the trip home to help out with the family business.  Kristi handles the clerking duties at many sales throughout the year.
Kristi lives in Bozeman with her husband Kevin and daughters Miya & Harper.
Tiffany (Kniepkamp) Erwin
Tiffany is Rick & Donna's youngest daughter.  She is the doctor of the family and will be in Chicago for her residency for the next few years.  We'll see if we can convince her to come back home and clerk a sale in her spare time!  She is married to Jaden Erwin and they reside in Helena, MT.
The "Son-In-Laws"
As one might expect, the family business really does extend throughout the family!  New help arrived as each daughter was married.  So, if you see one of the daughters home for the sale, chances are you'll find a husband helping out too.  Jaden Erwin, Kevin Chase, and Doug Hammell all chip in and lend a hand when needed.
The Next Generation
If you see the grand-kids helping to run bid sheets back to the auction trailer don't be surprised, it's just the next generation getting their start in the auction business!